General Surgery
General surgery is a discipline that requires knowledge of and responsibility for the preoperative, operative, and postoperative management of patients with a broad spectrum of diseases, including those which may require nonoperative, elective, or emergency surgical treatment. Acute abdominal pain is the most common emergency presentation requiring surgery, since the abdomen has various organs which may be causing the pain.
General surgeons employ a wide range of knowledge and skills to perform surgery, often in emergency situations. General surgery encompasses a broad range of surgery which includes :
Surgical conditions of the gastrointestinal tract from the oesophagus to the anus.
General surgery of childhood.
Trauma to the abdomen and thorax.
Laproscopic Surgery
Laparoscopy, also known as diagnostic laparoscopy, is a surgical diagnostic procedure used to examine the organs inside the abdomen. It's a low-risk, minimally invasive procedure that requires only small incisions. Laparoscopy uses an instrument called a laparoscope to look at the abdominal organs. A laparoscope is a long, thin tube with a high-intensity light and a high-resolution camera at the front. The instrument is inserted through an incision in the abdominal wall. As it moves along, the camera sends images to a video monitor.
Laparoscopy is used to identify and diagnose the source of pelvic or abdominal pain. It's usually performed when noninvasive methods are unable to help with diagnosis. Laparoscopy allows your doctor to see inside your body in real time, without open surgery.
Piles Surgery
Piles are inflamed and swollen collections of tissue in the anal area. They can have a range of sizes, and they may be internal or external. Internal piles are normally located between 2 and 4 centimeters (cm) above the opening of the anus, and they are the more common type. External piles occur on the outside edge of the anus.
External piles form small lumps on the outside edge of the anus. They are very itchy and can become painful if a blood clot develops, as the blood clot can block the flow of blood. Thrombosed external piles, or hemorrhoids that have clotted, require immediate medical treatment.
Hernia
A hernia occurs when an organ or fatty tissue squeezes through a weak spot in a surrounding muscle or connective tissue called fascia. The most common types of hernia are inguinal (inner groin), incisional (resulting from an incision), femoral (outer groin), umbilical (belly button), and hiatal (upper stomach).
In an inguinal hernia, the intestine or the bladder protrudes through the abdominal wall or into the inguinal canal in the groin. About 96% of all groin hernias are inguinal, and most occur in men because of a natural weakness in this area.
In an incisional hernia, the intestine pushes through the abdominal wall at the site of previous abdominal surgery. This type is most common in elderly or overweight people who are inactive after abdominal surgery.
Kidney Stones
Kidney stones (renal lithiasis, nephrolithiasis) are hard deposits made of minerals and salts that form inside your kidneys. Kidney stones have many causes and can affect any part of your urinary tract — from your kidneys to your bladder. Often, stones form when the urine becomes concentrated, allowing minerals to crystallize and stick together.
Passing kidney stones can be quite painful, but the stones usually cause no permanent damage if they're recognized in a timely fashion. A kidney stone may not cause symptoms until it moves around within your kidney or passes into your ureter — the tube connecting the kidney and bladder.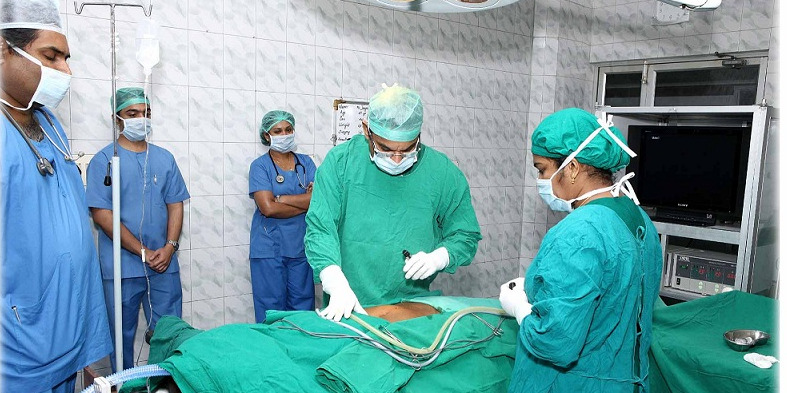 Gall Bladder Stones
Gallstones are solid particles that form from bile cholesterol and bilirubin in the gallbladder. You might not even know you have them until they block a bile duct, causing pain that you need to get treated right away. Gallstones can be any size, from tiny as a grain of sand to large as a golf ball.
The two main kinds of gallstones are :
Cholesterol stones : They're the most common kind, accounting for 80% of gallstones. They form when there is too much cholesterol in the bile.
Pigment Stones : They're made up of bilirubin, which comes from bile, a fluid your liver makes and your gallbladder stores.
Bariatric Surgery
Bariatric surgery is performed if you have severe obesity and have not been able to lose enough weight to improve your health using other methods or have serious obesity-related health problems. The surgery makes the stomach smaller and sometimes changes the small intestine.
The basic principle of bariatric surgery is to restrict food intake and decrease the absorption of food in the stomach and intestines. There are various types of bariatric surgeries that can be performed. Surgery may be performed using an "open" approach, which involves cutting open the abdomen or by means of laparoscopy, during which surgical instruments are guided into the abdomen through small half-inch incisions.
Appendix Surgery
An appendectomy is the surgical removal of the appendix. It's a common emergency surgery that's performed to treat appendicitis, an inflammatory condition of the appendix. When the appendix becomes inflamed and swollen, bacteria can quickly multiply inside the organ and lead to the formation of pus. This buildup of bacteria and pus can cause pain around the belly button that spreads to the lower right section of the abdomen.
It's important to seek treatment right away if you're having symptoms of appendicitis. When the condition goes untreated, the appendix can burst (perforated appendix) and release bacteria and other harmful substances into the abdominal cavity. This can be life-threatening, and will lead to a longer hospital stay.
Tummy Tuck/Abdominoplasty
A tummy tuck is a body contouring surgery that is not intended for simple weight loss, but instead for an overall aesthetic improvement of the stomach area. This surgery flattens the abdomen by removing extra fat and skin, and tightening muscles in your abdominal wall. The surgeon will cut your abdomen from hipbone to hipbone and then contour the skin, tissue, and muscle as needed. The surgery will involve moving your belly button, and you may need drainage tubes under your skin for a few days.
Following surgery, surgical drains may be placed in some cases, and a long-lasting pain injection or pain pump will be given to control discomfort. If drains are used, they will be removed after about a week. Swelling will persist for several weeks, gradually disappearing over the months following surgery, with the final results settling after about six months to a year. However, patients will be able to see preliminary results before this time.
Lithotripsy
Lithotripsy is a medical procedure used to treat certain types of kidney stones and stones in other organs, such as your gallbladder or liver.Lithotripsy uses sound waves to break up large kidney stones into smaller pieces. These sound waves are also called high-energy shock waves. The most common form of lithotripsy is extracorporeal shock wave lithotripsy (ESWL). Extracorporeal means "outside the body." In this case, it refers to the source of the shock waves. During ESWL, a special machine called a lithotripter generates the shock waves. The waves travel into your body and break apart the stones. Lithotripsy takes about 45 minutes to an hour to perform. You'll likely be given some form of anesthesia (local, regional, or general) so you don't experience any pain. After the procedure, stone debris is removed from your kidneys or ureter, the tube leading from your kidney to your bladder, through urination.